Kari Sproul von Goeben, M.D., FACOG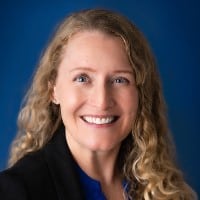 Kari Sproul von Goeben, M.D., F.A.C.O.G., joined IVF FLORIDA in 2023. She is board-certified in Reproductive Endocrinologist and Infertility.
Dr. von Goeben (pronounced "von Gerben") graduated from the University of Pittsburgh with an undergraduate degree in Neuroscience. She went to medical school at Temple University, where she graduated in 2002. From there, she continued to complete her residency at the University of California-Los Angeles and her Reproductive Endocrinology and Infertility fellowship at UCLA/Cedars-Sinai.
Dr. von Goeben received many awards for her expertise and patient care including selection to Jacksonville Magazine's Top Doctors in 2021 and Super Doctors of Southern California Rising Stars for three consecutive years. She has also authored and presented on topics specific to the field of reproductive endocrinology and is a well-regarded educator.
She is an active member of the American College of Obstetricians & Gynecologists, the American Society for Reproductive Medicine, and the Society for Reproductive Endocrinology and Infertility.