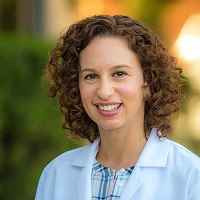 Offices:
165 Thomas Johnson Drive, Suite F
Frederick, MD 21702
9601 Blackwell Rd., 4th and 5th Floors
Rockville, MD 20850
Lauren Roth, M.D. is a board certified reproductive endocrinologist at Shady Grove Fertility in Frederick, MD. She completed her undergraduate degree in Women's Studies at the University of Maryland, College Park, where she graduated magna cum laude and was inducted into Phi Beta Kappa. She earned her Medical Degree from the University of Maryland, Baltimore. She continued on to the University of Colorado, Denver where she completed her residency in Obstetrics and Gynecology and a 3 year fellowship in Reproductive Endocrinology and Infertility. She then served as an Assistant Professor at University of Colorado for 2 years before moving back to Maryland. During her fellowship and time as faculty at University of Colorado, she presented research at multiple national meetings and received three national research awards. She has published research on a range of fertility topics including polycystic ovary syndrome (PCOS) and the impact of weight on reproductive hormones. Dr. Roth is available for new patient appointments at Shady Grove Fertility's Frederick and Rockville offices located in Maryland.