Karyn Rosenberg, LCSW, PMH-C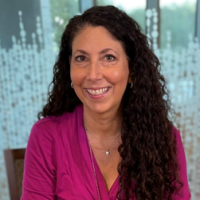 Thank you for taking this first step for yourself. When you are trying to become a parent, whether it is the first time, or to expand your family, you deserve to have the support and guidance to help during this challenging time in your life. You don't have to go through it alone. I will offer you a safe environment with compassion, warmth, and no judgment. You deserve this time and I hope to help you along your journey.
I have been working as a specialist in grief, loss, trauma, perinatal mental health, and reproductive mental health for over twenty one years in private practice, and seven years prior in hospice. I am certified in perinatal mental health, as well as provide hypnotherapy services; which is very helpful for anxiety and stress management. I am trained in Eye Movement Desensitization and Reprocessing (EMDR) which is an evidence based approach to work through trauma that may have occurred presently, or resolve any past issues that may have resurfaced. I am a contributing author for Understanding the Journey with a chapter entitled "Self-Care is not Selfish."
This may be one of the most difficult times in your life, so we can work together to begin to work through the myriad of emotions including guilt, pressure, anxiety and sadness, and help find peace, empowerment, and strength. I often will work with a partner, spouse, or family member to improve communication and understanding.
I am here to help build your tool chest of coping skills and strategies, and give you a space to breathe. You have already taken the most difficult step, and I look forward to joining you on your journey.