Reproductive Medicine Associates of Connecticut
115 Technology Drive, Suite C200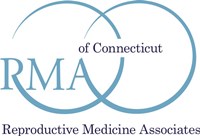 At Reproductive Medicine Associates of Connecticut (RMACT), patient care begins with a partnership between patients and award-winning, board-certified reproductive endocrinologists. Based on individual patient needs, personalized fertility treatment plans may include in vitro fertilization (IVF), intracytoplasmic sperm injection (ICSI), intra-uterine insemination (IUI), egg donation or a new, cutting edge technology called Comprehensive Chromosome Screening (CCS) that enables the healthiest embryos to be chosen for transfer.
In addition to this advanced medical care, patients have the opportunity for adjunct services through RMACT's Integrated Fertility & Wellness Program, which includes acupuncture, counseling, peer support groups, yoga and nutrition counseling.
RMACT is one of 16 leading In Vitro Fertilization (IVF) centers nationwide chosen by In Vitro Sciences to participate in its Centers of Excellence program. RMACT has offices in Norwalk, Danbury, Stamford and Trumbull Connecticut.