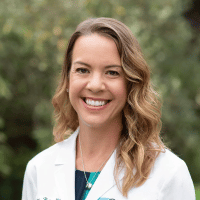 Andrea Reh, M.D., FACOG, is a board certified reproductive endocrinologist at Shady Grove Fertility in Arlington, VA. She graduated magna cum laude from Cornell University with a bachelor of arts in biology. She then received her medical degree at Georgetown University in Washington, D.C., where she graduated with Alpha Omega Alpha honors.
Dr. Reh completed her internship and residency in obstetrics and gynecology at the New York Presbyterian Hospital Weill Cornell Medical Center in New York City. During residency, she served as the administrative chief resident and was selected as an outstanding resident in gynecologic endoscopy by the American Association of Gynecologic Laparoscopists. She then went on to complete a 3-year fellowship in reproductive endocrinology and infertility at the NYU Fertility Center with the NYU School of Medicine in New York City.
Dr. Reh has published and spoken nationally on a variety of topics related to infertility, including fertility preservation, in vitro fertilization stimulation protocols, donor egg, thyroid autoimmunity, blastocyst transfer, and chromosomal aneuploidy. She has been an invited panelist for WIAD FM's Community Focus and Curetalks.com regarding fertility preservation, and she speaks regularly for local young adult cancer survivor support groups through Inova's Life with Cancer. She is a recipient of the Berlex Foundation Faculty Development Research Award and the American Society for Reproductive Medicine CREST Scholarship.
She is currently an assistant professor in the department of obstetrics and gynecology at the Virginia Commonwealth University and a fellow of the American Congress of Obstetricians and Gynecologists. Dr. Reh was born and raised in Pittsburgh and lives in Virginia, with her husband and their three children. Dr. Reh is available for new patient appointments at Shady Grove Fertility's Arlington office.