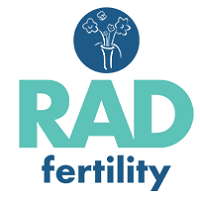 Offices:
4735 Ogletown-Stanton Road
Medical Arts Pavilion 2, Suite 3217
Newark, Delaware 19713
Silverside Medical Center
2700 Silverside Road, Suite 2A
Wilmington, Delaware 19810
Eden Hill Medical Center
200 Banning Street, Suite 240
Dover, Delaware 19904
Since 1995, RADfertility has helped hopeful patients realize their dreams of becoming parents. During that time, the RADfertility team has grown its practice to become the most successful in Delaware, with SET and pregnancy rates amongst the highest in the country. That success has been driven by a shared philosophy of applying the golden rule to patient care: offering the same treatment to you that we would want for our friends and loved ones.
Our five board certified reproductive endocrinologists will spend significant time with you to create a personalized treatment plan tailored to each patient's unique needs. RADfertility patients receive the combined expertise of not just one, but four physicians that carefully review their chart and progress every week as a group. Together, with our team of clinicians and coordinators, they provide feedback and recommendations to ensure our patients receive the highest level of care.