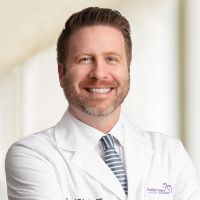 Dr. Samuel Ohlander is committed to building a trusting relationship with his patients by providing honest, compassionate, and collaborative care. He is board certified in Urology and specializes in male infertility, fertility preservation, low testosterone, vasectomies, and microsurgical vasectomy reversals. He earned his medical degree at the University of Illinois at Chicago College of Medicine where he also completed his residency in surgery and urology. He then completed a fellowship in male reproductive medicine and surgery at Baylor College of Medicine.
In addition to seeing patients, Dr. Ohlander is a contributor to the University of Illinois medical school curriculum, education, and counseling. He has been published on the medical management of male infertility in Campbell's Urology, Infertility in the Male, the most significant urologic and male reproductive medicine textbooks.
Dr. Ohlander understands that male infertility is a sensitive issue for many patients. He strives to provide a comfortable and open environment so that his patients feel empowered as they take steps to grow their families.
Offices:
900 N. Kingsbury, Suite RW6
Chicago, Illinois 60610
2555 Patriot Blvd.
Glenview, Illinois 60026
907 N. Elm Street, Suite 200
Hinsdale, Illinois 60521