Meredith O'Hanley, BA LMT BCHN CDSP CNC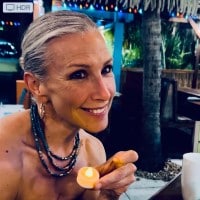 Meredith O'Hanley has been a Fertility Enhancement and Reproductive Specialist since 2014 with 22 years in clinical practice.Meredith enjoys partnering with the medical community to promote the best optimal outcome whether pursuing natural conception or Assisted Reproductive Technology. She works virtually with clients or in person.
Meredith approaches Fertility struggles thru a forensic lens; diving deeper and exploring further into the possible root causes of unsuccessful conception, pain + gynecological issues. Among her numerous methodologies: individual Nutritional Biochemistry assessment, past and/or present trauma + physical evaluation the reproductive organs for mobility, tension and possible restriction and blood flow.
Meredith has prepped numerous clients for IUI + IVF with outstanding positive outcomes using Gyno-Visceral Manipulation therapy. See study PMID:15266276
Meredith is a Board Certified Holistic Healthcare Practitioner, Board Certified in Holistic Nutrition, Functional Nutritional Therapy Practitioner, Certified Nutritional Consultant, Certified Dietary Supplement Professional + a Licensed Massage Therapist.