Desiree McCarthy-Keith, M.D.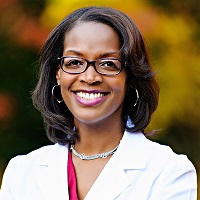 Offices:
3905 Brookside Pkwy., Suite 100
Alpharetta, GA 30022
5445 Meridian Mark Road, Suite 270
Atlanta, GA 30342
Desiree McCarthy-Keith, M.D. is a board certified reproductive endocrinologist at Shady Grove Fertility in Atlanta, GA. Dr. McCarthy-Keith earned her medical degree and a Master of Public Health in maternal and child health from the University of North Carolina at Chapel Hill. She completed her Obstetrics and Gynecology residency training at Duke University Medical Center and a fellowship in Reproductive Endocrinology and Infertility at the National Institutes of Health in Bethesda, Maryland.
During her fellowship, Dr. McCarthy-Keith's research focused on the molecular mechanisms of uterine fibroid regulation and reproductive health disparities. She has special interests in male and female infertility, polycystic ovary syndrome, uterine fibroids, and in vitro fertilization. She has authored several peer-reviewed publications on reproductive and infertility topics and has presented her research nationally. She is honored to serve as Adjunct Clinical Assistant Professor of Obstetrics and Gynecology at Morehouse School of Medicine.
A native of North Carolina, Dr. McCarthy-Keith is the proud mother of two energetic sons. She spends her free time in Atlanta visiting the zoo, strolling the botanical gardens, and cheering on the Braves. Dr. McCarthy-Keith is available for new patient appointments at Shady Grove Fertility's Northside and Alpharetta offices in Atlanta, GA.