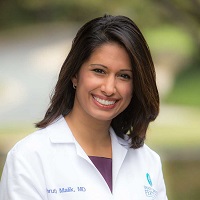 Shruti Malik, M.D., FACOG is a board certified reproductive endocrinologist at Shady Grove Fertility in Virginia. She received her medical degree from Northeastern Ohio Universities College of Medicine. After finishing her residency in Obstetrics and Gynecology at Summa Health System, she completed a three-year fellowship in Reproductive Endocrinology and Infertility at Magee-Womens Hospital of the University of Pittsburgh Medical Center.
Dr. Malik has expertise in the diagnosis and treatment of infertility, including polycystic ovary syndrome (PCOS), male factor infertility, and ovarian aging. She is also accomplished in the areas of fertility preservation and elective egg freezing. Dr. Malik has received several honors, including the University of Pittsburgh Medical Center Physician Services Division Scholarship, the Society of Laparoscopic Surgery Outstanding Surgeon Resident Award, and the Cleveland Society of OB/GYN Women's Health Service and Leadership Award.
She has presented her research on fertility preservation and sexual dysfunction at several national meetings. An advocate in the reproductive endocrinology field, Dr. Malik has held a variety of leadership roles with the American Medical Student Association and the American Congress of Obstetricians and Gynecologists. Originally from Cleveland, Ohio, Dr. Malik enjoys running, photography, tennis, and traveling. Dr. Malik is available for new patient appointments at Shady Grove Fertility's Arlington office located in VA.