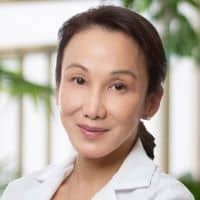 Dr. Annette Lee is a board certified reproductive endocrinologist who serves as Medical Director of Third Party Services at RADfertility. She is a highly acclaimed physician with over 25 years of experience. From opening her own private practice to working with other large practices, Dr. Lee is very driven and has an extensive background in reproductive medicine.
Dr. Lee has been named Castle Connolly 2023, 2022, 2021, 2020, 2019, 2018, 2017, 2016, 2015, and 2014 Top Doctor in Reproductive Endocrinology along with their Exceptional Women in Medicine Award.
Her numerous Top Doctor accolades speak volumes about her devotion to patient care. At the end of the day, Dr. Lee believes it is a true privilege to be able to do work that really matters and impacts the lives of families.
Offices:
Eden Hill Medical Center
200 Banning Street, Suite #240
Dover, DE 19904
4735 Ogletown-Stanton Road
MAP 2, Suite 3217
Newark, DE 19713
Silverside Medical Center
2700 Silverside Road, Suite 2A
Wilmington, DE 19810