Reproductive Medicine Associates of New York at CareMount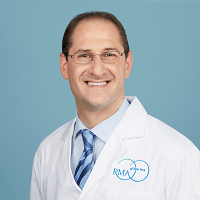 Offices:
311 North Street, Ste. 310
White Plains, New York 10605
360 North Bedford Road
Mount Kisco, New York 10549
Matthew Lederman, MD, is a reproductive endocrinologist and infertility specialist at RMA of New York. Dr. Lederman serves on the Medical Advisory Board of FORCE (Facing our Risk of Cancer Empowered) and the Scientific Advisory Board for T.E.A.L. (Tell Every Amazing Lady About Ovarian Cancer). Dr. Lederman has published scientific abstracts and articles in a number of peer-reviewed journals in the fields of endocrinology and infertility and has presented his research at national conferences. He specializes in fertility preservation for patients who are diagnosed with cancer or are pre-disposed to hereditary cancer syndromes, unexplained fertility, recurrent pregnancy loss, in vitro fertilization, egg freezing, and pre-implantation genetic screening. He has been recognized as a New York Super Doctor every year since 2015.