Jessica R. Kanter, MD, MTR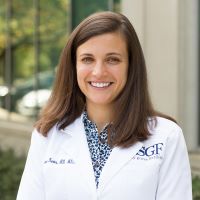 Offices:
5445 Meridian Mark Road, Suite 270
Atlanta, Georgia 30342
61 Whitcher St, Suite 4140
Marietta, GA 30060
Jessica R. Kanter, M.D., MTR, is board certified in obstetrics and gynecology and board eligible in reproductive endocrinology. Dr. Kanter currently sees patients at SGF's Marietta and Atlanta 's Northside offices. An ardent researcher, Dr. Kanter has contributed to medical publications focusing on subjects such as monozygotic twinning in IVF, cell biology and roles in early pregnancy establishment and outcomes, and the uterine immune environment in addition to writing book chapters detailing infertility and ectopic pregnancies.