Fertility Centers of Illinois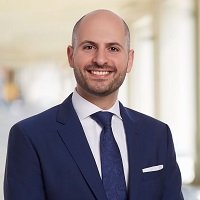 Dr. Elie L. Hobeika strives to deliver the highest level of compassionate, individualized, and evidence-based care to all of his patients. Dr. Hobeika is board certified in obstetrics and gynecology and earned his medical degree at the University Saint Joseph in Beirut before going on to complete his residency in obstetrics and gynecology at the Hofstra Northwell School of Medicine at Staten Island University Hospital. He then completed a fellowship in reproductive endocrinology and infertility at the University of Illinois at Chicago.
His advanced research in the field of ovarian physiology and the use of stem cells in reproduction has familiarized him with the complex disorders in women with infertility. Moreover, Dr. Hobeika has been trained by world experts in the field of recurrent pregnancy loss and polycystic ovary syndrome (PCOS), offering him clinical expertise in these areas. His research has been extensively published and presented in national meetings, and he has won several awards that recognize his accomplishments in research, teaching, and patient care during residency and fellowship. In addition to speaking English, Dr. Hobeika is also fluent in French and Arabic.
Offices:
135 North Arlington Heights Road, Suite 195
Buffalo Grove, Illinois 60089
18210 South La Grange Road, Suite 111
Tinley Park, Illinois 60487