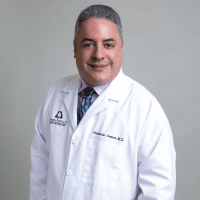 Offices:
Gainesville:
6440 W Newberry Rd, Ste 111
Gainesville, FL 32605
Melbourne:
129 W Hibiscus Blvd, Ste A
Melbourne, FL 32901
Ocala:
1800 SE 17th St, Ste 300
Ocala, FL 34471
Orlando:
Montclare Medical Centre
70 W. Gore St., Suite 202
Orlando, FL 32806
Tampa:
2700 W Martin Luther King Blvd, Ste 200
Tampa, FL 33607
Winter Garden:
2200 Fowler Grove Boulevard, Suite 260
Winter Garden, FL 34787
Dr. Fernando Gomez is dual board-certified in Obstetrics and Gynecology and Reproductive Endocrinology (REI) and has additional subspecialty training in infertility and genetics. Along with being a practicing physician, Dr. Gomez previously taught at the Medical College of Georgia.
For more than 20 years, Dr. Gomez has had the privilege of helping women and couples achieve their dreams of having children. He continually receives high marks from patients for his knowledge and attention to detail. As one of two providers at Brown Fertility who is fluent in Spanish as well as English, Dr. Gomez welcomes the opportunity to provide fertility advice and treatment to families who speak either language.