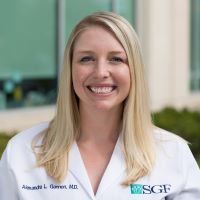 Offices:
9601 Blackwell Rd., 4th and 5th Floors
Rockville, MD 20850
12011 Lee Jackson Memorial Highway, Suite 302
Fair Oaks, VA 22033
Alexandra Gannon, MD, is board certified in obstetrics and gynecology (OB/GYN) and board eligible in reproductive endocrinology and infertility (REI). Dr. Gannon earned her medical degree from University of Oklahoma College of Medicine in Oklahoma City. She then completed her residency in OB/GYN at Wake Forest School of Medicine in Winston-Salem, North Carolina. Drawn to the combination of women's healthcare, genetics, and cutting-edge research, Dr. Gannon then trained in REI at Baylor College of Medicine in Houston, Texas. While in fellowship she earned her Masters in Clinical Investigation through Baylor College of Medicine.