Fertility Centers of Illinois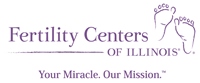 Offices: 
135 N. Arlington Heights Road, Suite 195
Buffalo Grove, Illinois 60089
900 N. Kingsbury, Suite RW6
Chicago, Illinois 60610
2555 Patriot Blvd
Glenview, Illinois 60026
767 Park Avenue West, Suite B400 / Highland Park Hospital Professional Bldg.
Highland Park, Illinois 60035
767 Park Avenue West, Suite 190 / Highland Park Hospital Professional Bldg.
Highland Park, Illinois 60035
907 N. Elm Street, Suite 200
Hinsdale, Illinois 60521
2260 West Higgins Road, Suite 200
Hoffman Estates, Illinois 60169
18210 South La Grange Road, Suite 111
Tinley Park, Illinois 60487
28373 Davis Parkway, Suite 502
Warrenville, Illinois 60555
Fertility Centers of Illinois (FCI) is a leading fertility treatment practice in the United States, providing advanced reproductive endocrinology services for over 35 years with more than 42,000 babies born. A team of 12 world-renowned doctors, embryologists and staff treat thousands of patients each year. The practice has earned a reputation for medical and clinical excellence and continues to invest in the latest state-of-the-art technologies and research.
FCI offers a comprehensive range of fertility treatments with an emphasis on in vitro fertilization, third party reproduction, egg donation, gestational carriers, genetic embryo screening, and egg freezing/oocyte vitrification, allowing patients to receive care at one center. Patients receive individualized treatment plans, with close attention paid to physical and emotional well-being, along with accommodating financial options and a free patient support program.
We are committed to delivering an exceptional patient experience with compassion and care. Your miracle is our mission! To learn more, call 877-324-4483 or visit fcionline.com.