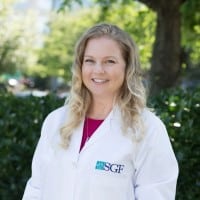 Emily Evans-Hoeker, MD, is board certified in obstetrics and gynecology (OB/GYN) as well as reproductive endocrinology and infertility (REI). Dr. Evans-Hoeker received her medical degree at Case Western Reserve University in Cleveland, Ohio. She then completed her residency in OB/GYN at the University of Alabama at Birmingham. From there, Dr. Evans-Hoeker trained in REI at the University of North Carolina.
Along with teaching numerous courses at the University of North Carolina and Virginia Tech Carilion School of Medicine, Dr. Evans-Hoeker serves as the director of resident research in the Department of OB/GYN, Carilion Clinic, and is dedicated to mentoring upcoming REIs and OB/GYNs. She also has a keen interest in continuously enhancing patient care through overall wellness and lifestyle science. An honest and compassionate physician, Dr. Evans-Hoeker has been recognized for these traits by being awarded America's Top Obstetrics and Gynecologist by Consumers' Research Council of America.
Dr. Evans-Hoeker has earned numerous research awards and produced peer-reviewed publications including a prize paper on antidepressant use and fertility treatment outcomes. She has conducted studies on various topics including weight and infertility and social media's impact for fertility-care providers and their patients in addition to studying the effect of life coaching on infertility patients' stress levels. She is a member of several professional organizations including the American Society for Reproductive Medicine (ASRM), the American Congress of Obstetricians and Gynecologists (ACOG), and the Society for Assisted Reproductive Technology (SART).
In her spare time, Dr. Evans-Hoeker enjoys expressing her creativity through photography, crafting, and cake decorating. She also enjoys being in nature with her family and focusing on the beauty that exists in the world.