Tiffany Edwards, PhD, MPH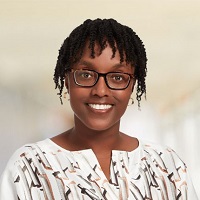 Dr. Tiffany Edwards is a licensed clinical psychologist and patient educator specializing in counseling couples and individuals during treatment as well as egg donors and surrogates for those pursuing third party reproduction options.
Dr. Edwards earned her doctoral degree from Saint Louis University and a master's in public health from New York University. She completed her predoctoral residency at Rush University Medical Center and two postdoctoral fellowships at Emory University School of Medicine and the Icahn School of Medicine at Mount Sinai. In her career, she has worked with patients to address a wide variety of psychological and health-related issues such as anxiety, depression, cancer survivorship, women's health issues, stress management and more. In her role at Fertility Centers of Illinois, she counsels and supports patients, facilitates patient education seminars and leads support groups.
Her caring, empathetic and supportive counseling approach aims to help patients move from fear and vulnerability to empowerment and hope on their treatment journey.