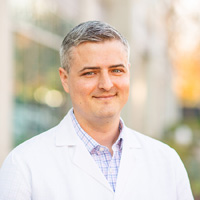 Offices:
Belcher Pavilion
2000 Medical Parkway, Suite 308
Annapolis, MD 21401
3010 Crain Highway, Suite 201
Waldorf, MD 20601
Matthew Connell, D.O., FACOG, earned his doctorate of osteopathic medicine from Des Moines University College of Osteopathic Medicine. He went on to complete his residency training in Obstetrics and Gynecology at the University of Missouri and completed his fellowship in Reproductive Endocrinology and Infertility at the National Institutes of Health.
Dr. Connell has published numerous peer-reviewed scientific manuscripts, book chapters, and review articles in many leading scientific journals, and has been invited to present and consult nationally in the fields of endocrinology, infertility, and reproductive immunology.
Dr. Connell is board certified in Obstetrics and Gynecology and board eligible for Reproductive Endocrinology and Infertility. He is a fellow of the American Congress of Obstetrics and Gynecology, as well as a member of numerous medical organizations. His clinical interests include all aspects of male and female infertility with specific focus on recurrent pregnancy loss, polycystic ovary syndrome (PCOS), premature ovarian insufficiency, diminished ovarian reserve, endometriosis, and fertility preservation.