Conceptions Reproductive Associates of Colorado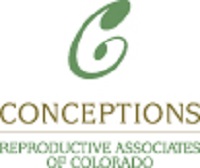 Offices:
4500 E. 9th Ave #630
Denver, Colorado 80220
300 Exempla Circle #370
Lafayette, Colorado 80026
271 W County Line Rd
Littleton, Colorado 80129
Sky Ridge Medical Center, Evergreen Building
10107 RidgeGate Parkway, Suite 300
Lone Tree, Colorado 80124
At Conceptions Reproductive Associates of Colorado, you'll find empathy, encouragement, and caring that goes beyond the norm. We understand fertility treatment and the challenges that it can present. In fact, many on our team have been through the process. So we're tuned in to your needs making your journey simple, empowering and effective.Each and every year, Conceptions helps hundreds of couples on a loving journey to build a family. For nearly twenty years, Conceptions Fertility Specialists has been helping couples to realize their dreams. As a leader in the field of reproductive medicine, Conceptions offers a full spectrum of the most advanced treatments available.Our team can diagnose and manage even the most challenging fertility problems. Our center has performed thousands of IVF cycles with exceptional results. In fact, our highly acclaimed clinicians and embryologists consistently achieve pregnancy rates among the highest attainable.Whether you are just beginning treatment or need a second opinion, you can trust Conceptions Reproductive Associates of Colorado to provide you with the level of care you deserve.