Channing Burks Chatmon, MD
Fertility Centers of Illinois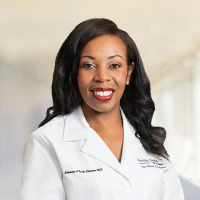 Offices: 
2555 Patriot Blvd
Glenview, IL 60026
2260 West Higgins Road, Suite 200
Hoffman Estates, IL 60169″
Dr. Channing Burks Chatmon is a reproductive endocrinologist and board-certified obstetrician and gynecologist who is passionate about supporting and guiding patients with personalized and evidence-based treatment options to fulfill their dream of having a family.
Dr. Burks Chatmon earned her medical degree from Indiana University School of Medicine, followed by an internship and residency in obstetrics and gynecology at Rush University Medical Center. After completing a recurrent pregnancy loss fellowship at University of Illinois at Chicago, she went on to fulfill a reproductive endocrinology fellowship at University Hospitals Cleveland Medical Center.