Leah Bressler, MD, M.P.H.
300 Keisler Drive, Suite 102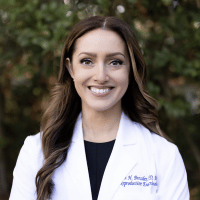 Leah Bressler, MD, M.P.H., is board certified in obstetrics and gynecology (OB/GYN) as well as reproductive endocrinology and infertility (REI). She grew up in Clinton, North Carolina and attended UNC Chapel Hill as a Morehead scholar. Dr. Bressler earned her medical degree from Harvard Medical School while also completing her Master's in Public Health. She then completed her residency in OB/GYN at Northwestern University Feinberg School of Medicine and Cook County Hospitals in Chicago, Illinois. From there, Dr. Bressler completed her REI fellowship at the University of North Carolina at Chapel Hill.