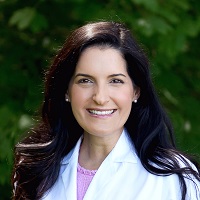 Anate A. Brauer, M.D., FACOG, is a board-certified reproductive endocrinologist with extensive experience in treating all medical and surgical aspects of infertility. She serves as SGF New York's IVF Director.
Dr. Brauer earned her medical degree from the George Washington University School of Medicine, where she was elected to the prestigious Alpha Omega Alpha medical honor society. She completed her residency in Obstetrics and Gynecology at New York Presbyterian Hospital-Weill Cornell Medical Center. Dr. Brauer subsequently completed her fellowship training in Reproductive Endocrinology and Infertility at the Ronald O. Perelman and Claudia Cohen Center for Reproductive Medicine and Infertility-Weill Cornell Medical College. Prior to joining Shady Grove Fertility, Dr. Brauer was an Assistant Clinical Professor at NYU School of Medicine.
Dr. Brauer has expertise in ovulation induction, in vitro fertilization (IVF), egg freezing, pre-implantation genetic testing and third-party reproduction including donor egg, donor sperm, donor embryo, and gestational surrogacy.