Fertility Centers of Illinois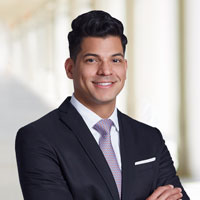 Offices:
900 N. Kingsbury, Suite RW6
Chicago, IL 60610
28373 Davis Parkway, Suite 502
Warrenville, IL 60555
Dr. Juan P. Alvarez is board certified in Obstetrics and Gynecology and completed his residency in Obstetrics and Gynecology at Emory University School of Medicine, followed by a fellowship in Reproductive Endocrinology and Infertility at a University of California, Los Angeles and Cedars-Sinai Medical Center combined program. He received his medical degree from the University of Illinois at Chicago. A native of Colombia fluent in Spanish, Dr. Alvarez feels a special connection to Latino/Hispanic patients. As a member of the LGBTQ community, he is committed to helping, treating, and advocating for the reproductive health of the LGBTQ community and has a specific interest in egg donation, sperm donation and surrogacy. His published research includes topics such as PCOS and miscarriage, improving egg quality, and the impact obesity has on ovarian function and fertility potential. He takes time to form a connection with his patients and creates individual and personalized treatment plans for his patients.
Dr. Alvarez works in two FCI location: Tinley Park and Chicago/River North at 900 N. Kingsbury, Suite RW6, Chicago, Illinois 60610