Fertility Centers of Illinois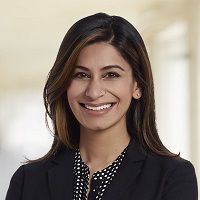 Dr. Asima Ahmad is a board-certified obstetrician and gynecologist with a passion for improving access to care for all patients, irrespective of social, economic or financial circumstance. Dr. Ahmad earned combined medical and public health degress from the University of Chicago's Pritzker School of Medicine and the Harvard School of Public Health. She then completed her internship and residency in OB/GYN at the Yale School of Medicine, followed by her fellowship training in reproductive endocrinology and infertility at the University of California, San Francisco. Dr. Ahmad has published extensively in ithe academic literature on a wide range of topics in infertility, women's health and global health delivery, with special interests in PCOS, ovarian reserve and novel technologies in infertility access (particularly the INVOCell device).
Outside of work, she focuses on global infertility and women's health, having worked on projects across the globe from South Asia to the World Health Organization in Geneva. Dr. Ahmad believes every patient deserves an individual, personal approach to fertility, formed through a deep understanding of a patient's goals and the best of medical science and innovation.
Offices:
18210 South La Grange Road, Suite 111
Tinley Park, Illinois 60487