Getting Insurance Coverage at Work
RESOLVE is committed to increasing the number of people with access to family building benefits through their employer. That is why we have created the "Coverage at Work" initiative to help empower employees and employers to make decisions that lead to better employer provided family building benefits for all.
So, let's get started:
If your family building options are not covered through your employer's healthcare plan or other employee benefits, why don't you ask for that to change?  At this moment, no one cares more about this issue than you, and RESOLVE has the information, tools, and support to help you via our Coverage at Work program. It all begins with making the initial ask. Let's break down the next steps:
Download and review the Coverage at Work Employee Toolkit.
Set up a call with the Coverage at Work team to talk through any questions.
Draft an email to your HR representative using the template and resources provided in the toolkit.
Understanding Insurance and How You Are Covered
1 in 8 couples experience an infertility diagnosis, so you likely have many employees that are significantly impacted by this disease. And this statistic does not include the LGBTQ+ community and unpartnered individuals who may also need medical treatment to build their families.
Whether you have received requests from your employees asking for this benefit or are proactively looking to provide coverage for reproductive medical treatment, we have a toolkit and host of resources you will need to make an evidenced-based decision. Below are your next steps:
Download and review the Coverage at Work Employer Toolkit.
If desired, set up a call with the Coverage at Work team to help answer questions.
Reference our Model Benefits included in the toolkit, and reach out to your insurance carrier, broker, and/or specialty vendors that provide fertility benefits to get a quote.
Understanding Infertility and Why You Should Add Benefits
Infographic on Fertility Benefits - 2021 Study Fielded by Mercer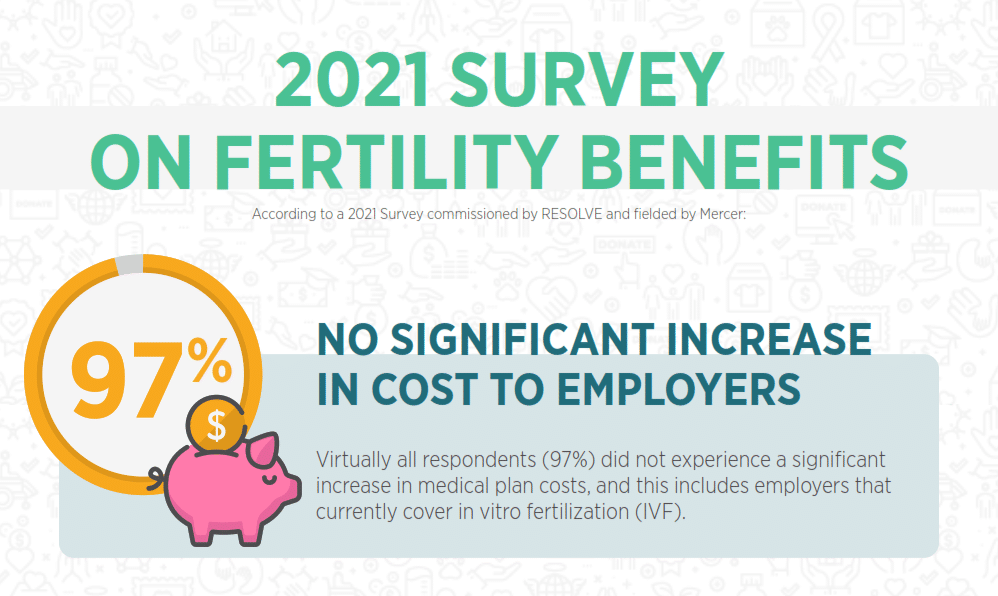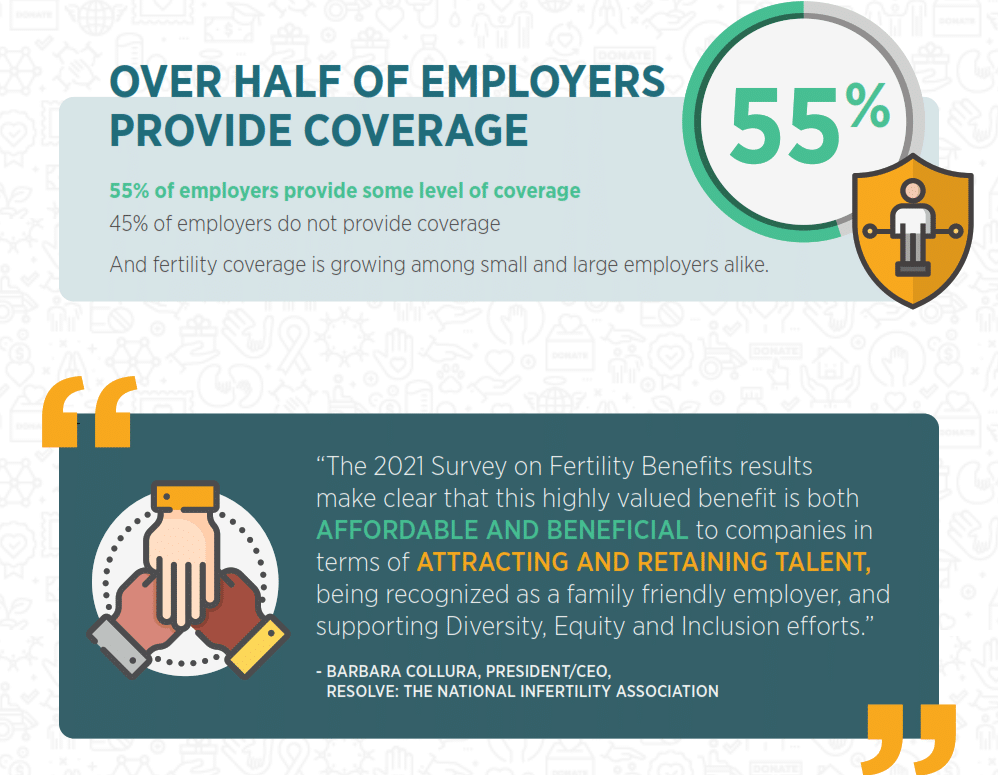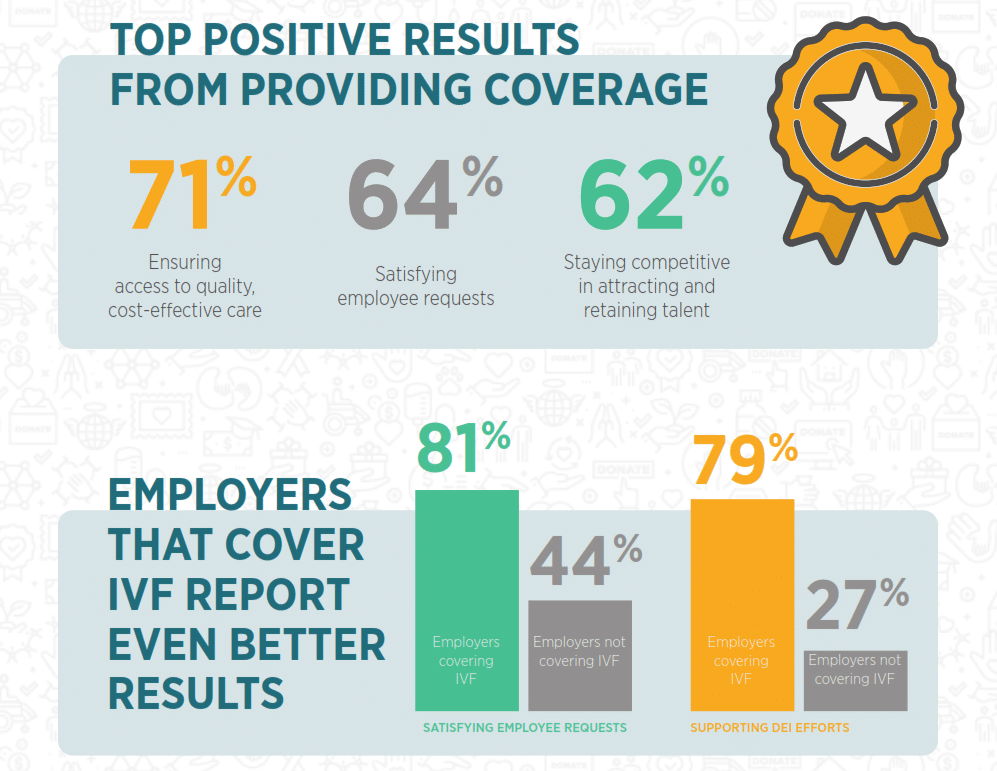 Definitions: "Infertility" means a disease, condition or status characterized by:
a failure to establish a pregnancy or to carry a pregnancy to live birth after regular, unprotected sexual intercourse, or
a person's inability to reproduce either as a single individual or with their partner without medical intervention, or
a licensed physician's findings based on a patient's medical, sexual and reproductive history, age, physical findings and/or diagnostic testing, or
disability as an impairment of reproductive function.
"Infertility diagnosis and treatment" means the recommended procedures and medications from the direction of a licensed physician that are consistent with established, published, or approved medical practices or professional guidelines from The American College of Obstetricians and Gynecologists (ACOG) and/or The American Society for Reproductive Medicine (ASRM).
"Fertility Preservation for Risk of Infertility" means procedures that are consistent with established medical practices or professional guidelines published by ASRM and/or the American Society of Clinical Oncology (ASCO) for a person who has a medical condition or is expected to undergo medication therapy, surgery, radiation, chemotherapy, or other medical treatment that is recognized by medical professionals to cause a risk of impairment to fertility.
"Fertility Preservation for Reproductive Aging and Other Causes" means procedures that are consistent with established medical practices or professional guidelines published by ASRM for women who want to try to protect against future infertility due to reproductive aging or other causes.
Benefits for Infertility Diagnosis and Treatment and Fertility Preservation Services include but are not limited to:
Consultation and Diagnostic Testing
Prescription Medications
Intra-cervical insemination and/or intrauterine insemination (IUI)
In vitro fertilization (IVF) procedure, which includes ovarian stimulation, oocyte retrieval, and a fresh or frozen embryo transfer
Intracytoplasmic sperm injection (ICSI)
Procedures utilized to retrieve oocytes, sperm or reproductive tissue
Genetic testing (PGT-A, PGT-M, or PGT-SR)
Fresh embryo transfers
Frozen embryo transfers
Cryopreservation of sperm, oocytes, reproductive tissue and/or embryos
Insurance Coverage Myths and Facts
There are many fertility insurance coverage myths. Read on as we debunk common myths and break down the facts.
Myth: Adding a fertility coverage benefit to a health benefits package will increase health care costs.
Busted:  Studies indicate that including comprehensive fertility coverage may actually reduce costs and improve outcomes.
According to a 2006 employer survey conducted by consulting firm William M. Mercer, and commissioned by RESOLVE: 91% of respondents offering infertility treatment have not experienced an increase in their medical costs as a result of providing this coverage.
Myth: If a health benefits package includes some form of coverage, it does not need to include others.
Busted: There is no one-size-fits-all treatment for infertility, but often patients select treatment based on what is covered in their health benefits plan rather than what is most appropriate treatment.
For example, a woman having trouble conceiving because of blocked fallopian tubes or tubal scarring may opt for tubal surgery, a covered treatment, which can cost $8,000-$13,000 per surgery. Many patients are forced to forgo in vitro fertilization (IVF) because it is not a covered service even though it costs about the same as tubal surgery and statistically is more likely to result in a successful pregnancy.
According to William M. Mercer, "The decline in use of high-cost procedures like tubal surgery would likely offset the cost to include IVF as a benefit and provide improved health outcomes." (William M. Mercer, Infertility as a Covered Benefit, 1997).
Myth: Offering family building benefits will increase the likelihood that an employee will have a child and then leave.
Busted: A 2016 online consumer survey commissioned by RESOLVE of more than 700 employees pursuing IVF found that those with employer-provided IVF benefits had higher satisfaction with their employer compared to respondents without coverage. Covered employees were less likely to miss time from work due to treatments, psychological stress, depression or other conditions related to infertility; were more likely to recommend their employer as a place to work; and felt their employer listened and met their needs and cared about their well-being.
A 2017 survey conducted by FertilityIQ of patients who had undergone IVF found that employees who had their IVF covered reported being more likely to remain in their job for a longer period (62%), were more willing to overlook shortcomings of their employer (53%) and were more likely to work harder (22%).
More Facts:
In 2018, a survey conducted by Willis Towers Watson indicated that 55% of companies offered some form of family building benefit to their employees and predicted an increase to 66% of employers by the end of 2019.
12% of American women have difficulty becoming pregnant or staying pregnant and will need infertility services
63% of LGBTQ millennials are considering having children and may need Assisted Reproductive Technology to have a family.
In states with mandated infertility insurance, the rate of multiple births is lower than in states without coverage. (New England Journal of Medicine, "Insurance Coverage and Outcomes of In Vitro Fertilization," August 2002). Couples with insurance coverage are free to make more appropriate decisions with their physicians based on medical necessity rather than financial considerations that often result in multiple births and a high rate of complications during and after pregnancy.
Comprehensive infertility coverage may reduce premium expense by as much as $1 per member/per month. According to The Hidden Costs of Infertility Treatment in Employee Health Benefits Plans, insurance premiums that now indirectly provide coverage for "hidden" infertility benefits—surgeries to remove scarring in a woman's fallopian tubes or varicose vein removal for men—were calculated to be adequate to cover more effective and often less expensive treatments such as ovulation induction, intrauterine insemination and in vitro fertilization. (Blackwell, Richard E. and the William Mercer Actuarial Team, 2000)
The cost of infertility services as a percent of the total health premiums went down after the 1987 Massachusetts mandate. (Study by Griffin and Panak, Fertility & Sterility, 1998).
According to a 2003 Harris Interactive Poll, 80% of the general population believes infertility treatment should be covered by insurance. (Harris Interactive Inc., Survey, 2003).
Potential Cost of Not Offering Fertility Benefits
Learn about the cost of not offering fertility insurance benefits. According to a survey commissioned by RESOLVE of 702 employees who needed IVF to build their families, those without employer-provided fertility insurance coverage often expressed dissatisfaction and, in some cases, the desire to look for new employment opportunities with employers who provide coverage.
61% of respondents without fertility insurance paid out of pocket costs between $15,001 and $30,000 for one cycle of IVF.  While the cost of adding coverage varies based on insurance companies and providers, the benefit of employee retention is easy to see when considering the cost of turnover.
A Center for American Progress study found average costs to replace an employee are:
16 percent of annual salary for high-turnover, low-paying jobs (earning under $30,000 a year). For example, the cost to replace a $10/hour retail employee would be $3,328.
20 percent of annual salary for midrange positions (earning $30,000 to $50,000 a year). For example, the cost to replace a $40,000 manager would be $8,000.
Up to 213 percent of annual salary for highly educated executive positions. For example, the cost to replace a $100,000 CEO is $213,000.
A recent Glassdoor survey found that 4 out of 5 employees would prefer benefits to a salary increase.
Given that 1 in 8 couples are diagnosed with infertility and that the cost of offering infertility benefits does not significantly increase health care costs and may save money in the long term, can employers afford the cost of not offering fertility insurance benefits?
"Strong member advocacy in 2015 led the University of Michigan to conduct a 3-year pilot of coverage for IVF services. The successful pilot led to the approval of coverage for IVF services in all University health plans. Increasing the value of benefits for employees is a priority to support recruitment and retention goals, and addressing the member cost of IVF through benefit coverage addresses access and equity, allowing lower-paid employees greater access to these services.  The benefit structure allows for coverage only when services are received at the University of Michigan Center for Reproductive Medicine, which helps to ensure that our members are receiving evidence-based, high-quality care. In addition, the inclusion of moderate member cost-sharing and benefit maximums provides meaningful coverage while protecting the plan from excess costs. These parameters support the University's benefit principles of providing high-quality benefits and being a good steward of University resources."
- University of Michigan
"We believe it is critical that we continuously evaluate our benefits offering and identify how best to support our workforce. An essential aspect of this work is engaging with our employees to understand their needs, and we appreciate programs like RESOLVE that encourage these discussions," said Marc Serrilli, HR Total Rewards, Vice President, The J.M. Smucker Co. "Through dialogue with our employees, we identified the need for enhanced infertility services, which were made available to employees on February 1, 2022. This enhanced offering builds on our efforts to provide inclusive and accessible family building options via infertility services, adoption reimbursement, and surrogacy reimbursement."
- J.M. Smuckers Co
 "At the Medical College of Wisconsin we believe it is important to provide inclusive benefits for our employees, and that means fertility benefits are a must-have. Infertility is a common and growing diagnosis, and the demand for fertility benefits continues to increase. It is both an important family-friendly benefit for our employees and one way in which we remain competitive in the job market."
- Medical College of Wisconsin
Here are the additional resources for employers seeking fertility insurance facts cited by RESOLVE's Coverage at Work toolkit. There's no one-size fits all solution for individuals dealing with infertility, which is why comprehensive family building benefits help foster employee loyalty, retention, and satisfaction.
Additional Resources:
You are taking a great first step in helping your patients secure insurance coverage for the medical treatments they need to build a family. Thank you for joining this access to care movement and sharing this important information about RESOLVE's Coverage at Work program with your patients. Below are your next steps:
Download and start using the Coverage at Work Clinic Toolkit.
If desired, set up a call with the Coverage at Work team to help answer any questions.
Let us know when you start sharing the information with your patients so we can add your clinic to our Coverage at Work Boosters webpage – email us at coverageatwork@resolve.org.