Barbara Collura – President/CEO
Barbara Collura serves as the President/CEO of RESOLVE: The National Infertility Association. Barbara is a nationally recognized expert on infertility and the family building journey, with a special emphasis on the personal experience of those struggling to build their family. Barbara has worked with the World Health Organization on infertility definitions and clinical guidelines, worked with ACOG on their clinical definitions for infertility, and served a four-year term on the Advisory Council of the National Institute of Child Health and Human Development at NIH.
A frequent guest speaker at medical conferences, Barbara is an expert on public policy issues facing the infertility community that impact both patient access and clinical care. Barbara has been a guest on the TODAY Show, MSNBC, Fox & Friends, and Nightline. She is routinely quoted in major media outlets on a variety of topics related to infertility. In 2014, Barbara received the Distinguished Service Award from the American Society for Reproductive Medicine. Barbara is passionate about RESOLVE's mission as the organization was a source of support and information during her own battle with infertility. Click here to read Barbara's full biography. She can be reached directly at barbara.collura@resolve.org.
Marnee Beck – Senior Manager, Digital Assets
Marnee Beck joined the staff of RESOLVE in 2010 and is currently the Senior Manager, Digital Assets. Marnee has worked in nonprofit associations for more than 25 years including the Council on Foundations and most recently the Association for Talent Development in Alexandria, VA. She graduated from Sarah Lawrence College and earned a Masters degree from the George Washington University. She is passionate about breaking the silence of infertility through the use of social media and the internet. She and her husband Eric live in Herndon. She can be reached directly at marnee.beck@resolve.org.
Simeonne Bookal – Senior Manager, Access to Care
Simeonne Bookal joined RESOLVE in 2012. Since her introduction into RESOLVE as the Administrative Assistant, Simeonne has developed her professional skills as an experienced Events & Program Manager. In her current role, Simeonne is responsible for the planning and implementation of marketing and communications strategies that contribute to growing RESOLVE's Access to Care initiatives in partnership with the American Society for Reproductive Medicine (ASRM). In addition, Simeonne serves as the primary contact for people interested in volunteering for RESOLVE, including supporting volunteer recruitment and engagement, and other constituent and volunteer related communications and research.
Originally from Canada, Simeonne grew up with the opportunity to travel to many exotic countries and spent four years in Saudi Arabia with her mother, a nurse specializing in IVF treatment. Growing up with a mother in the reproductive field, gave Simeonne awareness about the infertility journey from a young age. A proud graduate from Rutgers, The State University of New Jersey, Simeonne received a BA in Communications. She resides in Chantilly, VA. She can be reached directly at simeonne.bookal@resolve.org.
Betsy Campbell – Chief Engagement Officer
Betsy Campbell has spent her career working for non-profit organizations and her free time volunteering for worthy causes. Her  experience in public relations, fundraising and volunteer management spans a wide range of sectors, including health care, social service, philanthropy, and politics, and organizations such as Mount Sinai Medical Center, American Hospital Association, Chicago Foundation for Women, and EMILY's List. Betsy received an AB in Psychology from Princeton University, where she has also served as a volunteer leader for annual giving.
As RESOLVE's Chief Engagement Officer, she is responsible for empowering constituents to make a difference through volunteering and advocacy. She is honored to work with RESOLVE's community of 800+ volunteers to support, educate and advocate on behalf of the family building community. Betsy's secondary infertility issues were resolved, and her three daughters inspire her to make a difference. She can be reached directly at betsy.campbell@resolve.org.
Manisha Dorsey – Coordinator, Development
Manisha joined the RESOLVE team in 2021. Prior to that she started her career in the live events (trade shows and conferences) industry, however the pandemic caused her to make a career change to a more family friendly role in non-profit industry. She attended the University of Maryland where she pursed a BA in Communication Studies. As a RESOLVE coordinator, she enjoys interacting with donors and volunteers. She can be reached directly at manisha.dorsey@resolve.org.
Rebecca Flick – Chief External Affairs Officer
Rebecca Flick joined RESOLVE in 2005. Rebecca's experience as a non-profit professional began in 1998 with the American Occupational Therapy Association and since then she has continued as a strategic communications professional for other non-profits including, the American Institute of Ultrasound in Medicine and National School Boards Association. She received a BA in Communications from the University of Maryland, College Park and a certificate in Direct Marketing from Virginia Commonwealth University.
As Chief External Affairs Officer for RESOLVE, Rebecca's main responsibilities include creating and implementing RESOLVE's communication plans, signature events (National Infertility Awareness Week and Night of Hope), and online strategies, as well as increasing the infertility community's engagement in RESOLVE's volunteer, advocacy and fundraising activities. Rebecca was diagnosed with infertility in 2006. She lives in Leesburg, VA with her husband, son, and daughter. She can be reached directly at rebecca.flick@resolve.org.
Magda Halim – Senior Manager, Coverage at Work
As RESOLVE's Senior Manager for Coverage at Work, Magda's goal is to empower employees to advocate with their employers for infertility insurance and benefits, as well as educate employers and coordinate outreach on the topic. Magda brings more than 15 years of client relations experience starting off in the Hospitality industry and transitioning to non-profits in 2011 working with organizations such as The Ehlers-Danlos National Foundation, Association Foundation Group and the Global Business Travel Association.
Growing up in the United Kingdom and having family in Egypt, Magda has a broad cultural background and prides herself on creating strong and supportive relationships. She received a BA in International Hospitality Management from Johnson and Wales University.
Magda can be reached directly at magda.halim@resolve.org.
Cindy Hollister – Director, Development
Cindy Hollister joined RESOLVE in 2014. She started her career in the software industry, then moved to non-profit arts management, a better fit for her personality and family. She holds a bachelor's degree in applied mathematics and a master's in education, both from the University of Buffalo. At RESOLVE, she enjoys interacting with Professional Members, volunteers, and donors, as well as working behind the scenes to support and problem solve with colleagues.  She can be reached directly at cindy.hollister@resolve.org.
Tina Krall – Chief Development Officer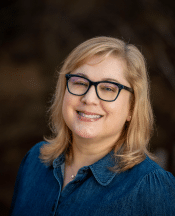 Tina joined RESOLVE in January 2022 in a new role as Chief Development Officer. With nearly 25 years of fundraising and nonprofit management experience, Tina has a long track record of leading fundraising for mission-based organizations in the healthcare and patient advocacy space including the American Cancer Society, Focused Ultrasound Foundation, the Charlottesville Free Clinic, and FORCE (Facing Our Risk of Cancer Empowered). A Florida native, Tina received her B.A. from Rollins College in Winter Park, FL with a concentration in Music, Business, and English, and her M.A. in Performing Arts: Arts Management from The American University in Washington. D.C. She lives in Charlottesville, Virginia with her husband, two daughters, and a small menagerie of rescue animals. She can be reached directly at tina.krall@resolve.org.
Andy Schwarz – Director, Public Relations
Andy Schwarz joined RESOLVE in 2011 and directs the public relations efforts for the association. Andy works with the media to increase public awareness of infertility, gain exposure for RESOLVE, and advance the organization's mission.  He has worked with top media outlets including The New York Times, The Washington Post, NPR, USA Today, and The Huffington Post to position RESOLVE as the voice of the infertility community. He lives in Arlington, VA with his family. He can be reached directly at andy.schwarz@mci-group.com.
Tracie Sullivan – Senior Manager, Grassroots Outreach
Tracie Sullivan joined RESOLVE after spending several years in the non-profit industry working on healthcare advocacy and volunteer management. Tracie has worked with hundreds of advocates across the United States in her roles at the United Nations Foundation, the COPD Foundation, and New Futures to tackle issues of healthcare coverage and support for global childhood vaccines, chronic obstructive pulmonary disease, early childhood initiatives and Medicaid expansion policies. Tracie received a BA in Spanish from Gordon College and a MA in Community Development and Planning from Clark University.
As RESOLVE'S Grassroots Outreach Manager, Tracie works with the amazing RESOLVE volunteer community on state and federal family building issues and trains advocates on how to take action and connect with their elected officials. Tracie also manages RESOLVE state and federal advocacy days and educates advocates on effective ways to tell their stories, write to their elected officials, issue state proclamations, and develop versatile advocacy skillsets. She can be reached directly at tracie.sullivan@resolve.org.
Updated September 2021